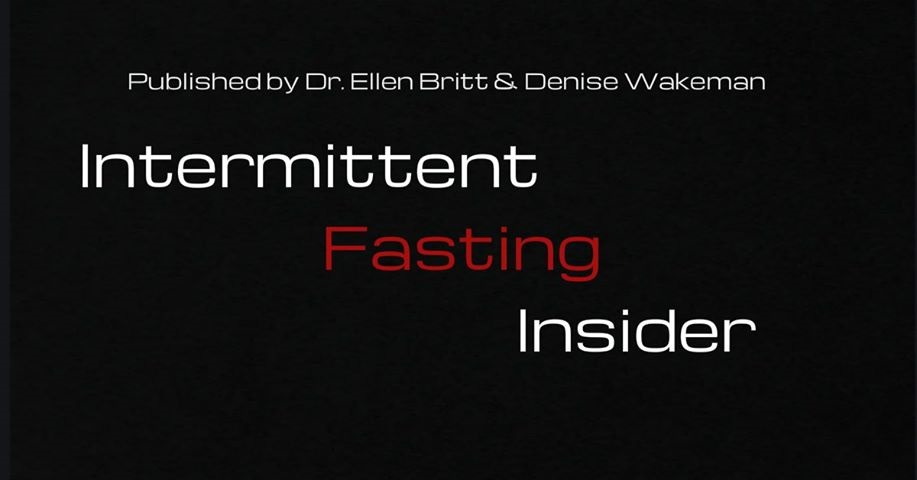 In this edition of the IF Insider:
Exciting news!! We have moved the IF Insider to Substack and to a more condensed format, bringing you free intermittent fasting news (as well as a paid version) that you can easily consume in one sitting. See below for what's going to be in each issue. And don't worry, our free intermittent fasting Facebook group as well as our Fast Factor Circle membership is not going anywhere and continues to grow. Just check out the link here to become a member of our exclusive Fast Factor Circle Community.
What is the IF Insider?
This newsletter is your briefing on the most compelling developments in intermittent fasting as well as innovation in practices that can be stacked with IF, such as plant-based eating, sleep hacks, natural nootropics, brain training and more, all curated by our team of entrepreneurs and 'future-think' scouts.
Our Mission is to introduce the power of Intermittent Fasting to entrepreneurs worldwide so they can exponentially improve their lives and businesses and the lives of the people they impact every day.
P.S. Please send your tips to our team by clicking here, and send your friends and colleagues to this link to subscribe to IF Insider.
P.P.S. Join our FREE Facebook group of like-minded entrepreneurs who are interested in intermittent fasting by going to this link.
---
Intermittent Fasting In Depth
What's this?
In our last IF Insider (IF Insider No. 10 - 07/14/20), we answered the most frequently asked questions we have received to date from participants in our quarterly Fast Factor Ten Day Intermittent Fasting Challenge. If you haven't had a chance to see that issue, it's got a little something for everyone and you can check it out here. If you happen to see a question that was not answered there and you are not yet part of our free Facebook Group, then please join and ask your question there. We would love to have you!
Today we are moving this free version of the IF Insider to a shorter, more condensed format. We will cover one specific intermittent fasting topic, highlight what Denise and I are reading, and then in this transition issue, look at a current topic in the research spotlight. Next time, the research spotlight will move to the paid version of the newsletter.
Moving to Substack also gives us the opportunity to provide longer form, more in-depth content for those of you who want more and who wish to purchase a paid subscription. The paid option will also include a monthly live Q&A call with Ellen and Denise held on the second Tuesday of each month at 12 Noon Eastern (9 AM Pacific) time. Plus, subscribers will get a step by step recipe from Ellen, who is known for her delicious, innovative, mostly plant-based recipes that will complement your IF practice.
Why aren't I losing weight?
One of the most frequently asked questions we get from people who are early into their intermittent fasting practices (usually from a couple of weeks to a couple of months) goes something like this:
"Maybe intermittent fasting is not for me! I've been fasting daily now for X weeks and I haven't lost a single pound. I am ready to throw in the towel. Help!"
When we hear this question, the first thing we do is gather more information in the form of four crucial questions:
One - Are you clean fasting?

Two - Are you overeating in your feasting window? (too many or the wrong kinds of calories)

Three - Are you undereating in your feasting window? (not enough calories)

Four - How many hours a day are you fasting? (What is the length of your fasting window?)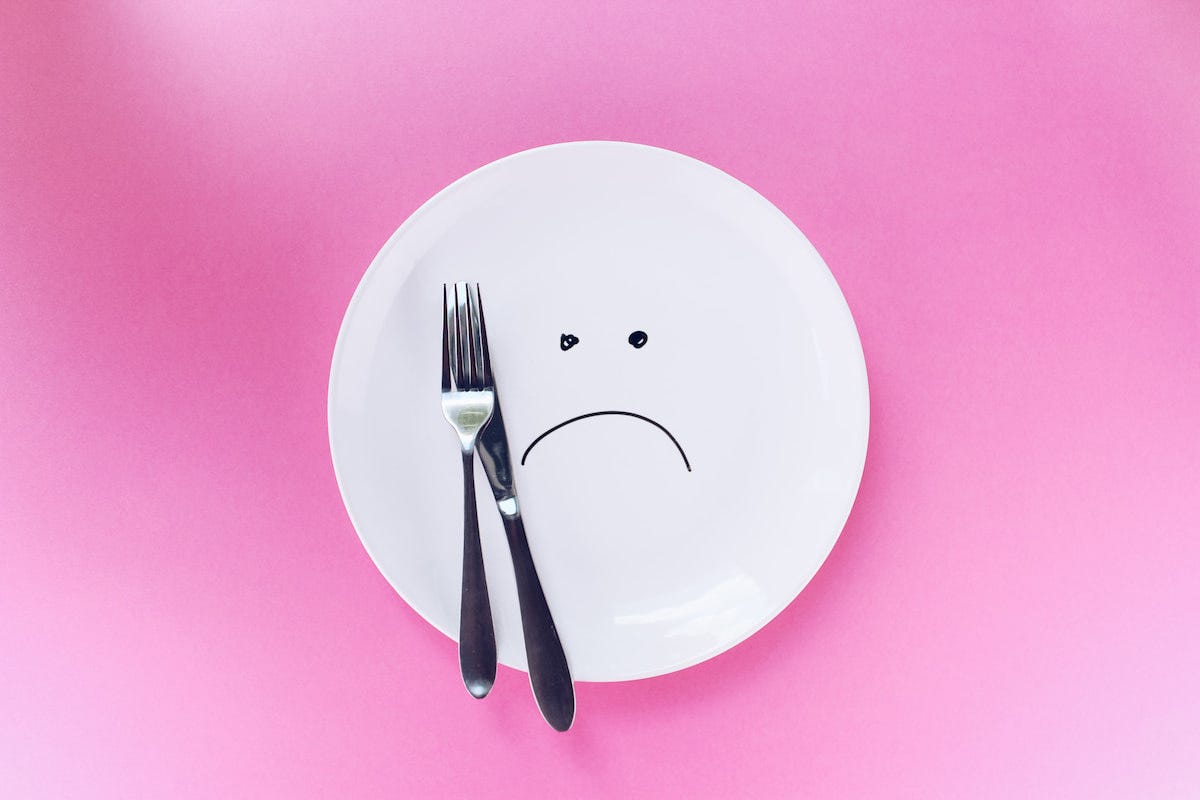 One - The first thing to determine is that your fast is clean, meaning that during your fasting time, you are not eating anything and are drinking ONLY plain water, sparkling water unflavored or unsweetened either naturally or artificially, plain green or black tea unflavored or unsweetened either naturally or artificially, or black coffee (caffeinated or decaf) unflavored or unsweetened either naturally or artificially.
Most people find it strange that we say not to drink anything flavored and/or sweetened even artificially, as those beverages would have zero calories. Here's the thing: there is evidence that flavors (natural or artificial), as well as zero-calorie sweeteners, have the ability to "trick" the body into thinking that food is on the way. In response, your body starts to put out insulin which is a signal for your body to store fat. Exactly what you don't want! So, the first thing is to make sure you are fasting clean.
Two - Even though IF is NOT a diet, and we don't routinely count calories, it is possible to overeat during your feasting window. If you have, for example, an 8-hour feasting window as you would have in a 16:8 schedule, make sure you are not grazing the entire time. You'll likely just want to do maybe one larger meal, a smaller meal and maybe a snack and not eat at all in between. Eat only until you are satisfied and not stuffed. Having said that, this takes some getting used to and you will overeat or undereat early on until your body adjusts. You could also choose to track your calories for a few days with an app like Lose It! so you can more accurately gauge your average calorie intake.
Make sure you are eating as healthy as possible, with minimal refined and processed carbs. Whole grains, fresh fruits, lean meats (if you eat meat), and plenty of fresh vegetables should do the trick.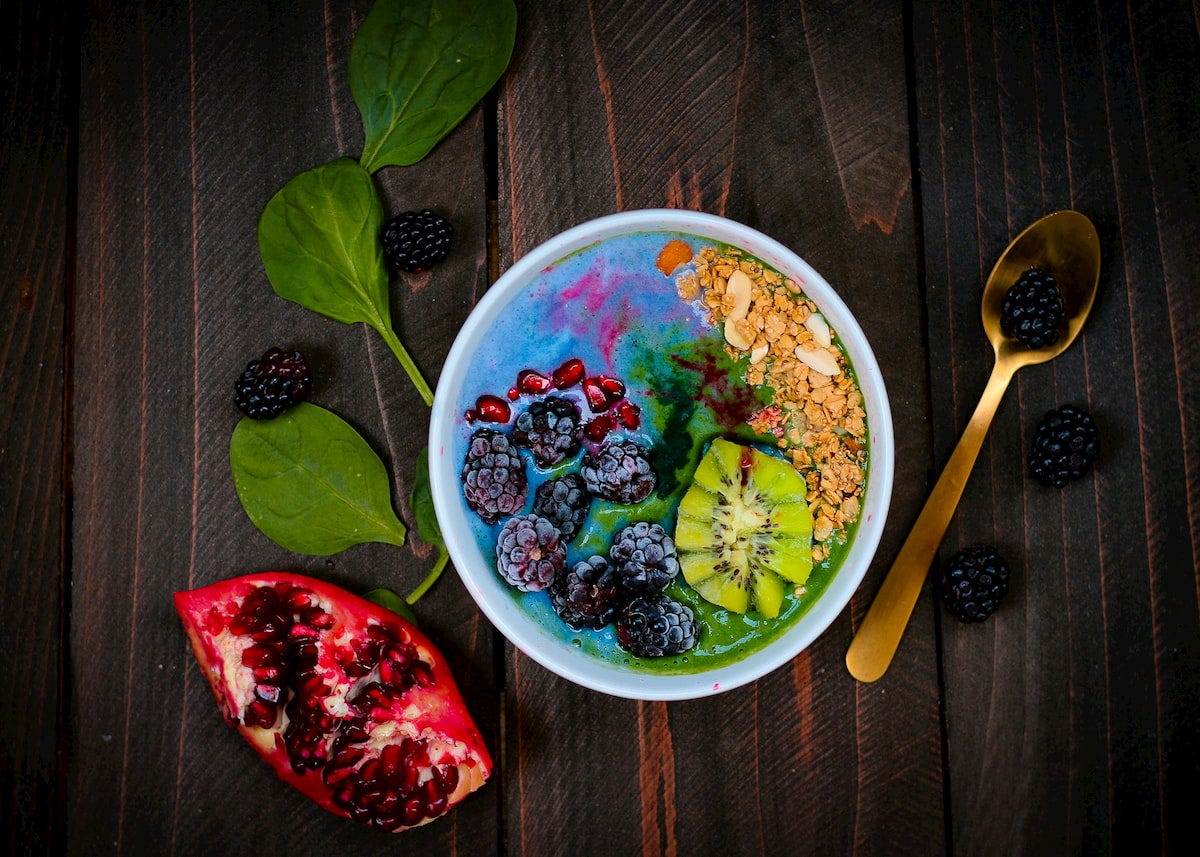 Three - It's also possible you could be under eating in your feasting window. This is especially true if you have just started and are only a week or two in. You will gradually adjust and will be able to eat more as time goes by. You may want to use an app like Lose It! to track your calories for a few days to make sure you are eating enough.
When you chronically undereat (as most "diets" have you do) your metabolism will naturally slow down as your body thinks you are starving and is trying to protect you by holding on to your stores of body fat. You have to eat enough so that does not happen. Usually, following the rule of thumb to eat only until satisfied, not stuffed works well.
Four - If you are good to go with the first three questions, the last thing to do is to look at the length of your fasting window. Most people start out their IF practices with a 16:8 window, sixteen hours of fasting, and an eight-hour eating window. For some folks that works just fine as a permanent schedule, but for many people who want to lose weight, it's just not enough to do the trick.
Try lengthening your fasting window by a half hour or one hour increment and see how this works for the next several weeks. If this does not do the trick, you may need more help.
Why It Matters - It's really important to be able to troubleshoot your progress with IF, especially if you are doing it to lose weight. Using the four questions model can help you do that. And if you need more help, you can choose to subscribe to our paid addition, as you get a live Q&A once a month where we can address your individual questions and concerns.
We love the dual free/paid newsletter model, as it enables us to deliver quality content for free AND it gives those of you who want more value a way to get it that is inexpensive and in turn, supports and deepens our efforts at bringing you more in-depth, actionable information.
"Knowledge is power. Knowledge shared is power multiplied." ~ Robert Boyce
Research Spotlight
Intermittent fasting has become very popular, not only for weight loss but for many other cardiometabolic and anti-aging benefits IF promises. A lot of the positive research on fasting has been done on rodent (mice) populations with very few human clinical trials. There is a new human study, published in the journal Cell Metabolism, in July of this year by researchers at the University of Illinois in Chicago, that looks at the difference in fasting/feeding times of two groups of obese subjects compared to a control group over the course of ten weeks.
One group was restricted to eating within a four-hour time window between 1 and 5 pm and the other group was restricted to eating within a six-hour window from 1 pm to 7 pm. During their fasting times, participants drank only water or calorie-free beverages. During the feeding times, the two groups were allowed to eat whatever they wanted. The control group was followed but did not change their dietary habits at all.
The ten-week study tracked the participants' weight, insulin resistance, oxidative stress, blood pressure, LDL (low-density lipoprotein) cholesterol, HDL (high-density lipoprotein) cholesterol, triglycerides, and inflammatory markers.At the end of ten weeks, both groups (not the control group) lost about 3% of their body weight, decreased their insulin resistance, and lowered their oxidative stress. No differences were found in levels of LDL, HDL, or total cholesterol and there was no significant difference in the participants' cardiometabolic risk factors (their chances of having diabetes, heart disease, or stroke).
This is the first human trial to compare the effects of two popular forms of time-restricted feeding (4 hours and 6 hours) on body weight and cardiometabolic risk factors. Weight loss was significant and similar for both groups. There was not a difference between the two groups in terms of whether their feeding window was 4 hours or 6 hours.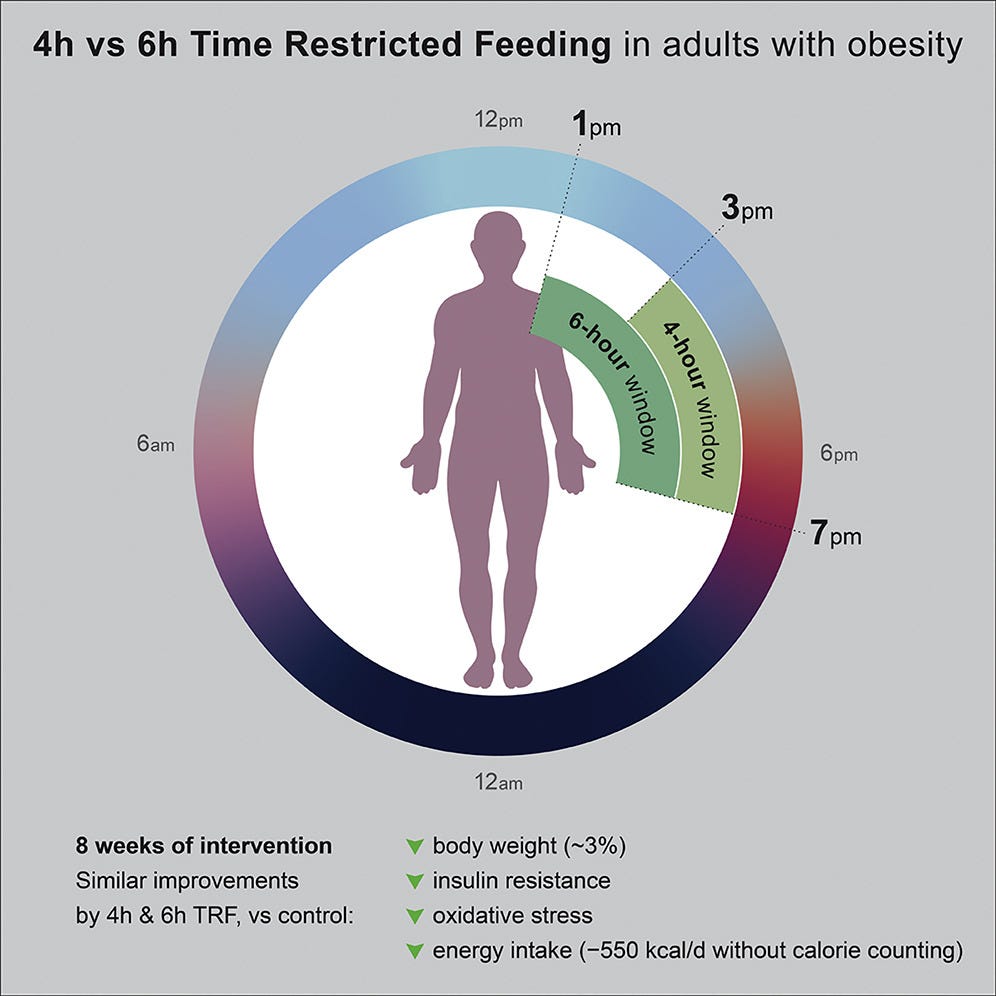 Even though the subjects' cardiometabolic risk factors were not shown to be reduced in this study, one could argue that at ten weeks, the participants had barely begun an IF practice and that further time on one of the regimens would have shown a difference.
Also, we have to assume that since the participants were allowed to have "calorie-free" beverages during their fasting time, that most of them did not adhere to the "clean" fast which we advise. There was also no mention of what the participants ate as well, so the results might have been better if their diets were more plant-based, with additional fiber, fruits, vegetables, and so forth.
In any case, it's good to see human trials on intermittent fasting making their way into peer-reviewed journals, as this sets the stage for future research!
What We Are Reading
Each issue, both Denise Wakeman and I bring you a short blurb on what we are currently reading or watching, including books, articles, videos, movies and research papers of value.
Denise - Awakening Loving-Kindness by Pema Chödrön
"Inspiration and encouragement for cultivating kindness--by embracing the joy, suffering, confusion, and brilliance of our everyday lives."
In the Fast Factor Circle, we're exploring meditation as a practice complementary to intermittent fasting. Since I've been developing a meditation practice for nearly a year, and am drawn to the loving-kindness meditation, I picked up Chodron's book on the topic. It's based on a series of talks she gave at a month-long meditation retreat, with each talk focused on an aspect of learning how to love ourselves so we can better love others. This is not about making changes in who we are but is about gently embracing ourselves as we are in order to let go of anger and pain and shame. Meditation techniques are described to aid in the journey.
Ellen - Seductions of Rice by Jeffrey Alford & Naomi Duguid. When most people begin the practice of intermittent fasting, they focus, and rightly so, on the fast. But sooner or later, they come to realize the practice of IF is not just about the fast but is every bit as much about the feast.
If anything, taste buds seem to multiply when you fast and food tastes even more delicious. Every meal becomes a new adventure and cooking becomes almost a sacred act. That's why I love this book about rice. Growing up in the American South, we had rice cooked long and lovingly into almost a soup-like consistency and served with lots of butter and salt, not unlike the steaming hot, soupy congee with dozens of toppings I would be served decades later at a hotel in Fuzhou, China while I was there to adopt my daughter.
This marvelous book explores rice as food and sustenance through the multiple lenses of many diverse cultures, from Thailand to Japan, to India, Spain, Jamaica, Mexico, and back to the U.S. including many places in between. As the book explains, "Rice is a grain, the fruit of a grass plant, and the staple food of more than half the world's population." This is a book not just filled with delicious enticing recipes but one that is also full of detailed and intimate descriptions of the world's peoples and how they use this wonderful grain we call rice. I think you'll be seduced as well!
Want Even More Conversations Like This?
As a Fast Factor Circle member, you get exclusive member-only content not available in the public IF Insider newsletter with in-depth monthly instructional workshops on topics ranging from nootropics to how to use traditional Japanese matcha to increase focus and productivity, three opportunities a month to meet via a live Zoom call with Ellen and Denise and other community members to get your questions answered, three nutritionally dense plant-based recipes and instructions a month, plus a private member's only group for discussion and networking.
All Circle members get priority notification and first chance to secure a place at our annual Inner Fire Experience at beautiful Serenbe Farms and Inn here south of Atlanta, Georgia. This will take place next year, in 2021, most likely in the spring.
Simply click here for more information and to become a member. Membership is just $47 a month with no ongoing commitment. Why not give us a try as we'd love to have you join us?
Our Mission: We bring together entrepreneurs to learn how to combine the extraordinary power of intermittent fasting with research-based practices both ancient and modern so that as we support, encourage and inspire one another, we can each expand our focus, confidence and productivity as well as exponentially increase our well being, and through us, the well being of our families, friends, colleagues, and communities.
###
Know someone who would benefit from getting access to the IF Factor Insider?
---
Some or all links in this message may be affiliate links, which means we may receive a commission if you make any purchases based on our recommendations.